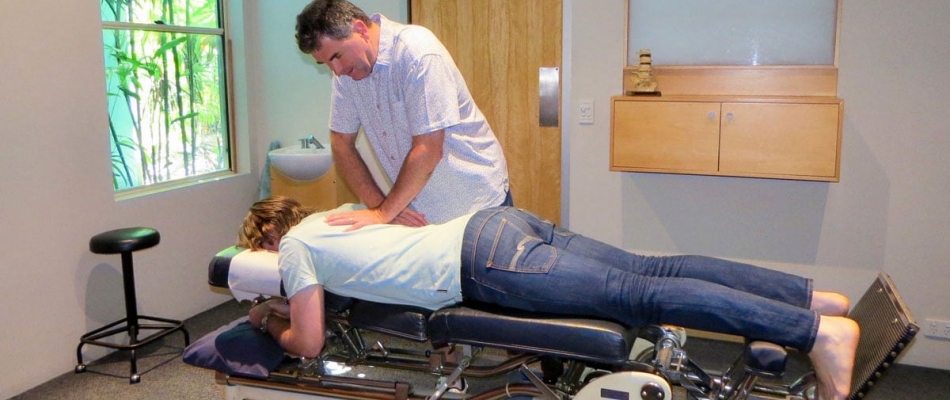 At Sunrise Chiropractic and Wellness we use a variety of techniques to provide a natural holistic approach to your health and well-being. Below is an outline of our methods.These may be used in conjunction with each other, or alone, to achieve the best results for your health.After years of university training and clinical experience, each chiropractor becomes highly skilled in the delivery of a variety of adjusting approaches.
Manual Adjusting
A Chiropractic adjustment is the skill of using a specific force in a precise direction, applied to a joint that is fixated, "locked up", or not moving properly. This adds motion to the joint, helping the joints to gradually regain more normal motion and function. The purpose of this safe and natural procedure is to permit improved spinal function, improved nervous system function, and improved health.
There are many ways to adjust the spine. We often use the hands to deliver a quick thrust to the joint.
The Activator Method
(A high-speed, low force treatment for your whole body)
Think of an adjustment as "tuning" a piano, adjusting each string so it produces the perfect tone.
The "Activator Method" is research-supported, gentle, safe and highly effective. A hand-held adjusting instrument is used to deliver a precisely controlled, light thrust to the misaligned vertebra.
The Activator Methods® Adjusting Instrument is a handheld spring-loaded tool that delivers a consistent low-force, high-speed thrust.
Because it's many times faster than adjustments delivered by hand, the body rarely tightens to resist, making adjustments comfortable and effective. It's also helpful for adjusting elbows, wrists, knees and other joints of the body.
Impulse iQ® Adjusting Instrument
The unique functionality and performance of the new Impulse iQ® Adjusting Instrument shines with simplicity. Apply it to the dysfunctional area and the instrument thrusts at the ideal frequency to maximize motion while changing frequencies in real-time congruently as motion improves. Impulse iQ® has patented Auto-Sense® technology that senses when mobility is maximized ceasing the adjustment, and provides feedback of the patient's response to the adjustment. There is nothing else like it in the marketplace at any price point.
Applied Kinesiology
Applied Kinesiology is a system that can help to evaluate different aspects of health through manual reflex muscle testing. When used in conjunction with other means of clinical assessment, Applied Kinesiology can provide very helpful additional information about a person's health status and also be used to effect gentle and lasting changes.
Drop Piece Technique
This special adjusting table is designed to assist the Chiropractor. There are a variety of gentle adjustments that can be done using the different drop piece sections of the adjusting table. This enables adjustments to be made in a very relaxed posture and helps to improve the safety of the manual adjustment.
Neuro Emotional Technique
Sometimes your body may experience pain due to persisting stressful issues. A technique known as NET Stress Relief (performed by a qualified NET Practitioner) has proven enormously beneficial for many patients in the USA, Europe and Australasia. Please feel free to ask us about "NET" or visit www.netmindbody.com. Research material on NET is available at www.onefoundation.org.
Quantum Neurology
Quantum Neurology (QN) focuses on the evaluation and rehabilitation of every major nerve in the body. Proper nerve function is essential for health and wellbeing. Nerves control every function in the body, and when they become dysfunctional a symptom develops. Many symptoms that most clients have come to deal with on a daily basis have a neurological component to them. Any time a nerve is not working appropriately, your body loses stability, and symptoms have a greater chance to present.
QN focuses on allowing nerves that may be associated with painful or debilitating injuries, illnesses, or condition to stabilise so that the body can heal itself. This safe non-invasive technique allows the Chiropractor to evaluate, strengthen, and rehabilitate every major nerve in the body. This is accomplished with a specific series of upper and lower body muscle strength tests designed to evaluate the entire spinal cord, as well as strengthening the nerves with light therapy, and gentle joint mobilisation.
Dr Damian Treacey is a certified Quantum Neurologist.​